BS-F2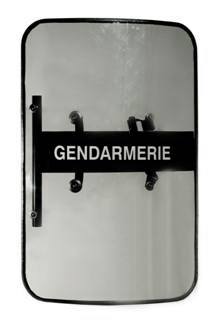 Description
Dual layer handheld rectangular body shield with inner cushion of air for extreme impact capabilities. Polycarbonate tinted grey.
Specification
Material

Shield: Polycarbonate (tinted grey) Handle:
Polymer Alloy with steel inserts;
Baton Holder: Polyethylene (black)

Window Size

28'' x 41'' x 0.217'' (70 cm x 105 cm x 5.5 mm)

Weight

4800 g (169 oz)

Color

Grey
Order Data
Product Name

BS-F2

Product Number

1111111
Application
Police, Sheriff, National Guard, University Police, Riot Squad, Jail, Military.