3P-FL CE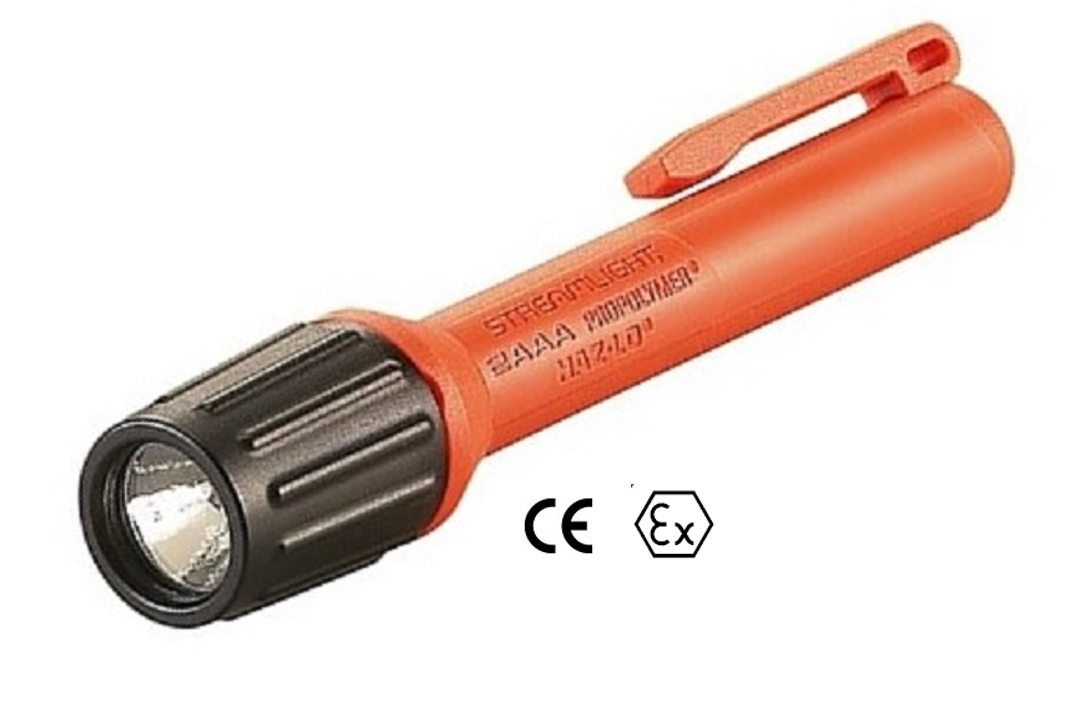 Description
Streamlight® 2AAA PROPOLYMER® HAZ-LO® ATEX is intrinsically safe arc tested alkaline flashlight for use with the 3Phase® lift-front Arc Shield and HT™Ampshield®. Fits all current 3Phase® and HT™ Ampshield® models together with the 3P-ALM articulated light mount.
Arc rated to an ATPV of 65 cal/cm² and tested as a kit to Arc Protection Class 2. C4® LED produces 60 lumens, 57 meter beam distance, runs 16 hours. IPX4 rated for water resistant operation. All openings sealed. 1 meter impact resistance tested.
Specification
Material

Housing: Impact and chemical resistant Engineered Polymer resin, non-conductive, sealed and vented, anti-static material (safety orange).
Lens: Polycarbonate with scratch-resistant coating.


Size

Length: 13,7 cm (5.4''), Major Diameter: 2,5 cm (1.0'')

Weight

28 g without batteries (1 oz)

Color

Orange/Black

Standard

Meets applicable European Community Directives.
Uses two AAA batteries (not included).
II 1G Ex ia IIC T4 Ga; FTZU 16 ATEX 0057X; IECEx FTZU 16.0016X
(approved for use with Energizer E92, Duracell MN2400, Rayovac NO.824 and Panasonic AM-4).
Designed to NFPA 70E, EN 61000-6-1:2016, EN 61000-6-3:2007 +A1:2011; tested to GS-ET-29:2011, ANSI/NEMA FL1-2009, certified to IEC 60079-0:2012 +A11:2013, IEC 60079-11:2012 (explosive atmospheres).
In compliance with EMC DIRECTIVE 2014/30/EU, RoHS DIRECTIVE 2011/65/EU +2015/863, Regulation (EC) 1907/14 (REACH).

Order Data
Product Name

3P-FL CE

Product Number

9041604
Application
Face shield flashlight to illuminate workplaces in association with dielectric protection from the hazards of arc flash. Arc rated to an ATPV of 50 cal/cm² and tested as worn mounted to 3Phase® lift-front Arc Shield and HT™Ampshield® at Arc Protection Class 2 (according to GS-ET-29:2011, Box Test Class2)
IECEx/ATEX-rated Zone 0; Equipment Protection Level Ga, Group IIC (gas). For use in places with an explosive gas atmosphere (other than mines susceptible to firedamp) that is present continually or for longer periods. Temperature Class T4 (<135°C) gas.